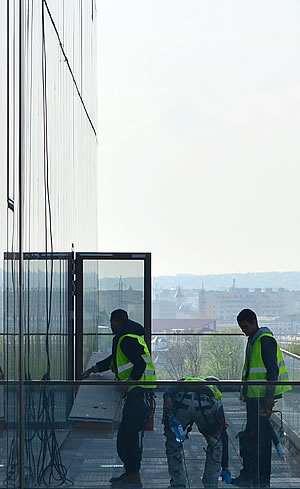 Main Activities:
With a broad and complex organizational structure, the main departments in the company are:
Engineering, Drawings and Design
Our engineering and design department offers solutions and support to all projects, from concept to installation drawings. These are a few of this department's activities:
Strength calculations, such as structural analyses, thermal and acoustic calculations, in conformity with national and European regulations.
Performance and quality tests.
Our internal design department is highly developed.
Project Management
Thanks to our fully integrated and well established project management department, as well as our on-going training capabilities, our company is able to manage projects as general contractor, being able to handle more than 10 large projects simultaneously.
The internal departments which offer their support to project management are:
Tendering department
Financial department
Commercial department
Sales, Marketing & PR department
Quality department.
OUR WORKSHOPS
Alusystem has two workshops in Timisoara:
The workshop for aluminum joinery, curtain walls and façade elements (unitized panels) – production flow is as following:

Cutting – Elumatec line – DG244 & DG79 double mitre saws;
Profile machining (drilling and milling) – CNC Elumatec (SBZ 140) and Schuco (PBX AL-7200);
Milling - Graule end milling machine;
Crimping – Schuco crimping machine;
Outfitting with seals, accessories and various metal fittings;
Packaging for delivery.

The workshop for steel structures manufactures steel parts need for the aluminum joinery assembly, curtain walls and unitized panels (façade elements) – production flow is as following:

Cutting – plasma cutting machine;
Bending & drilling;
Welding;
Packaging for delivery.
In 2017, Alusystem produced 50,000 m² and for 2018 the production is estimated to be approximately 75,000 m².